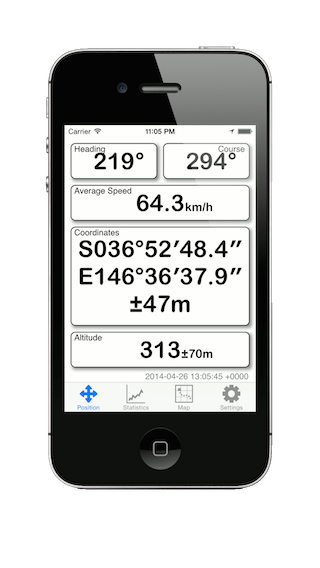 GPS
available on iOS
Access to your iPhone's GPS functionality and more.
The simple display shows your current:
Heading (where a compass is available).
Course
Speed
Coordinates
Altitude
Street and Topographic maps are available care of several different map providers including maps.google.com. and openstreetmap.org.
And trace statistics including:
Time and Distance
Minimum and Maximum Altitude
Average and Maximum speed.
Via the settings you can:
Choose between meters or feet and formats.
Choosing Speed or Average Speed.
Keep your iPhone awake.
Trace while GPS is in the background.
Automatically pause when you stop.
Shutdown when the battery started getting low.

---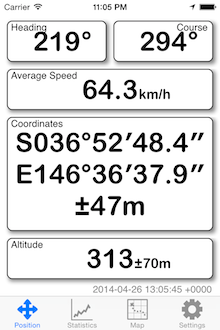 Compass reading
Travelling direction
Speed (calculated average)
Latitude (WGS 84)
Longitude (WGS 84)
Location Accuracy (distance)
Height above sea level and accuracy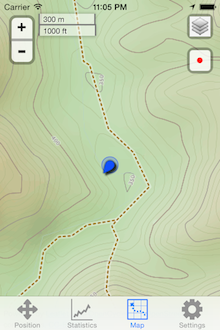 Zoom controls
Scale
Map selection
Follow control
Location & heading
Map provider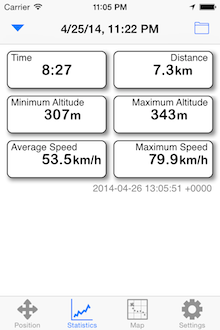 Time & distance
Minimum & maximum altitude
Average & maximum speed
In the navigation bar:
Extra trace controls
Organise traces
---
Information
The version of the application
A link to this page
Clear all recorded history and statistics
Clear cached map tiles
Display (and calculations)
Speed: Miles/Hour, Km/Hour or Knots
Latitude & Longitude: Formats or UTM.
Distances: Miles, Kilometres or Nautical miles
Altitude: Feet or Meters
Speed Average: Direct or averaged
Power
Keep the application running when not touched.
Continue a trace while in the background.
Enable a reserve so the battery does not go completely flat.
How much reserve should be kept.
Automatically pause the trace when you stop.

---
Abbreviations
f

Feet

m

Meters

mph

Miles Per Hour

kph

Kilometres Per Hour

kn

Knots
- - -

Not available.

°

Degrees

'

Minutes

"

Seconds

HH:MM:SS

Time in Hours, Minutes and Seconds